Never doubt it, Double Denim!
Denim is a way of life.
Light blue denim is a must-have this SS19. Denim is a way of life; some may say. It allows you to express your personal style with a laid back attitude. You can feel relaxed yet put together, all in one look.
This bold look is back and better than ever.
Combinations to wear this season; try pairing an oversized denim shirt and skinny jeans or wearing a classic denim jacket with a graphic tee underneath and 70s inspired flared denim jeans.
You can never go wrong with a fitted denim shirt, tucked into a high-waisted denim skirt.
It is no longer a faux pas to rock double denim, if done correctly. The modern denim fabric, has so many variations of blue, softer textures and has a better quality overall on the final design.
In current fashion you can match it effortlessly, which is the definition of denim.
A great fit is hard to find but once you've found the right pair, you and those jeans become inseparable.
Somehow denim over time has become more acceptable in society, they are not just a pair of durable pants and you can wear them to most occasions without feeling underdressed or out of place.
Adding bright and colourful accessories, with statement footwear can spice up your denim ensemble for the spring and summer season.
Now that all important question…
Can you wear different denim colours together?
I think light blue denim and white denim will go together perfectly for this current season.
But dark blue and black denim paired with light blue or white denim can look very tacky and dated.
Patch work denim in my opinion is something that should be left in the past.
When you are putting your personal stamp on a look that has been around for decades, keep in mind there is a thin line between bold and unfashionable. Make a statement but keep it classy.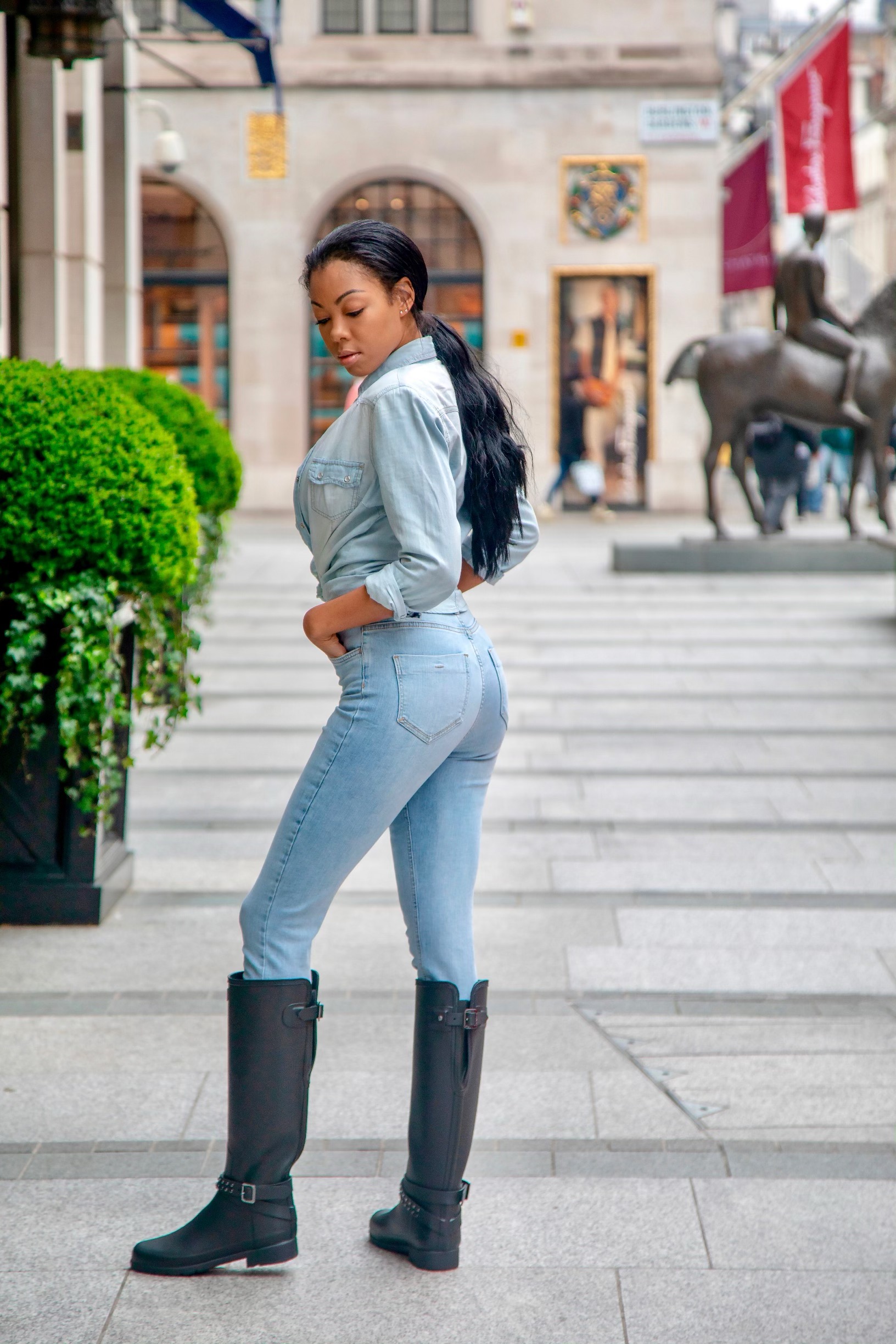 With my double denim look, I am wearing wellington boots, ready for those spring showers and cooler summer days.
Wellington boots and denim shorts is a classic look for festival season. You can mix and match the top, depending on the location and weather.
Adding a graphic tee underneath the denim shirt and casually throwing on a teddy coat, creates two looks in one. Layering in every season is always an option, it isn't just for autumn and winter.
Have fun this season with your look, be bold, be beautiful, be you!
Shirt & high-waisted denim jeans – ZARA
Graphic T-Shirt – Calvin Klein
Wellington boots – Hunter
Hair Style – Sleek Hair
by PRECIOUS MUIR
Photo Credit ARGIN