Summer is a State of Mind
When Summer is over...
The year of the chunky trainers, the extreme cat-eye sunglasses, extravagant statement designer belts and of course an essential power suit.
My favourite this year was the jumpsuit, I adore the low-cut back and the detailed buttons on the front instead of a zip, the fitted waist and the flared trouser legs.
One of the main fashion questions, we ALL ask ourselves is…
Can you wear your Spring/Summer Wardrobe in Autumn/Winter?
I believe that layering is the key to a stylish statement look for mixing seasonal items together. But it does depend on several factors, how thin is the material, will it blend well with darker tones for the season you're actually in? And can you layer it, without the garment looking as if you tried too hard to make it work?!
It should look effortless, you don't have to overthink a jumpsuit, you could wear a long sleeved roll-neck jumper underneath, optional statement designer belt with an oversized blazer and a cute pair of ankle boots. This would create an entire new look for the Autumn/Winter season.
Stripes are having a real moment this year, from the tailored striped suit, bold striped dresses, the side striped trousers. To layering stripes over stripes or even stripes under polka dots.
Adding a simple pop of colour e.g. A red shoe or a designer logo bag would complete the outfit, inspired straight from the runway collections. You could always invest in a couple of new jumpsuits for this coming season.
Burberry have a fantastic vintage check jumpsuit for a bold statement look or for a more subtle print, checkout the affordable selection at Topshop.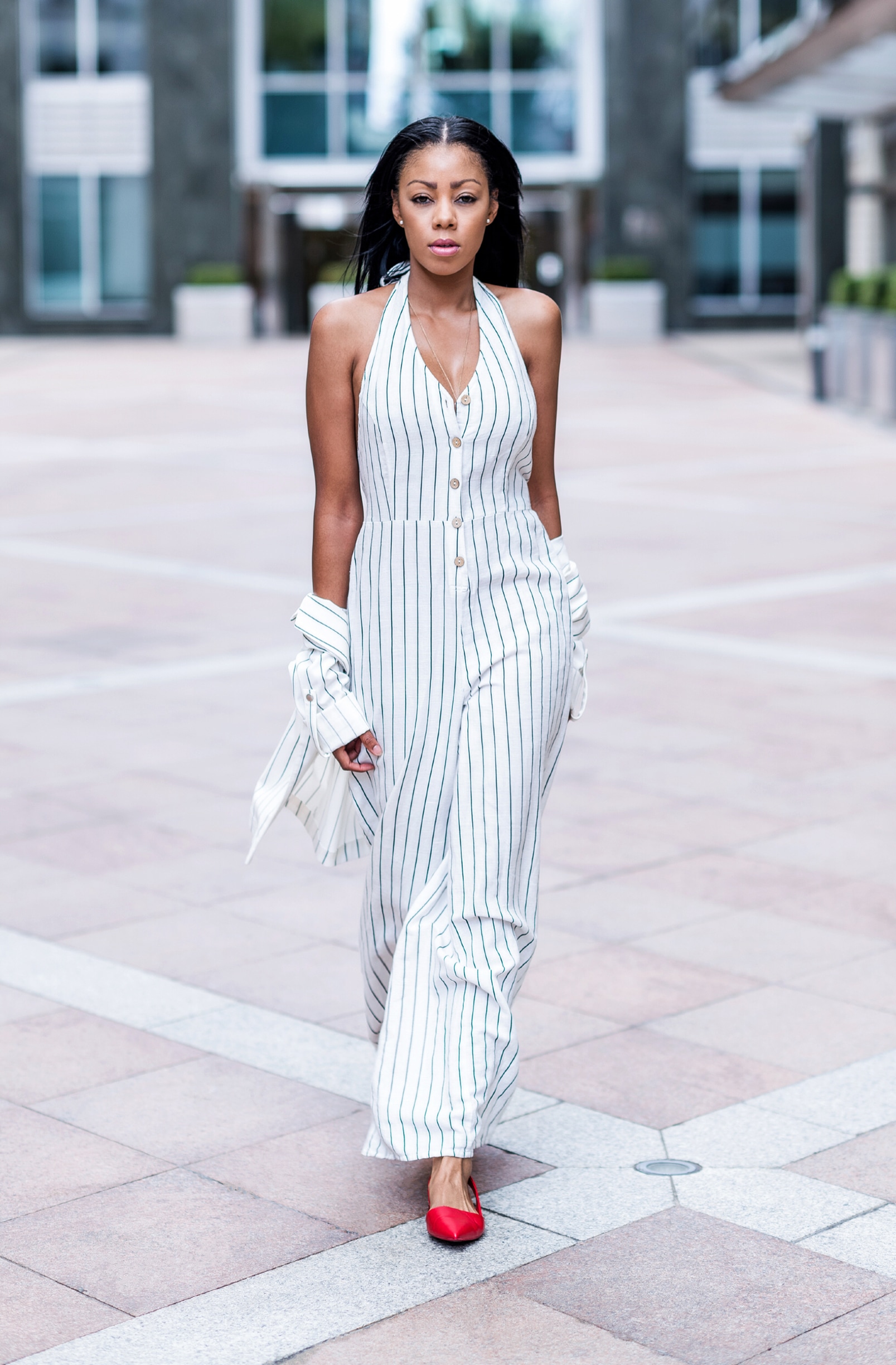 Surprisingly this outfit featured isn't technically a tailored suit, the striped jacket is from Bershka and the striped jumpsuit is made by Stradivarius who are both owned by the same Fashion House Inditex. So they are different material textures, only noticeable by the touch but visually match perfectly.
I could wear a jumpsuit everyday, they are just so comfortable and carefree, available in a variety of patterns and designs, not just in denim. It's a kind of style you can wear all year round. So you won't have to wait until next year to wear it again, layering is everything!
by PRECIOUS MUIR
Photo Credit Ben Moore